Yoga is the practice of joining the mind, body and spirit so that we may connect with ourselves, each other and the greater universe.

I teach in multiple locations and maintain a beautiful in home studio, both for private yoga and craniosacral sessions. Most of my classes resumed in person the first week of August.
My private studio is also open for private yoga sessions and craniosacral sessions for those who have received their full vaccine.
I will continue to offer 2 classes each week via Zoom.
Group Yoga Classes
Hosted Classes:
Zoom based Hatha Yoga Mondays and Wednesdays 11:15AM-12:45PM PT. NO classes Dec 22 and 27. Contact me via the form below, or at [email protected]
Summerset I Gentle Yoga Mondays and Wednesdays 1:30-2:30PM PT. NO classes Dec 22 and 27. Contact me via the form below, or at [email protected]
8 Week Series Through Other Organizations:
Gentle Yoga Mondays 8:30-9:30AM PT or Wednesdays at the same time. Registration is open for the next series that begins in January. Registration through Brentwood Parks and Recreation
Hatha Yoga Wednesdays 6:00-7:00PM Pacific Time. Registration is open for the next series that begins inJanuary Registration through Liberty Adult Education
Single Classes at Dhyanyoga Center in Antioch - Pending
Hatha Yoga at Dhyanyoga Center.
Private Sessions:
Offerings: 1 hour or 90 minutes sessions are available with Debbie
Private Session Fees: $75/hr session or $100/90 minutes.
Private Yoga Sessions: Sessions are custom tailored to your needs, and include a pre-session discussion to ascertain your goals and needs. These sessions are currently via Zoom or in my indoor studio (mask and vaccination required). You can also opt for a backyard session, weather dependent.
Private Craniosacral Sessions : Cransiosacral treatments restore and balance the nervous system while letting go of the affects of injury, trauma and stress. Treatments create an athmosphere in which the body can heal itself. These sessions are in my indoor studio (mask and vaccination required). You can also opt for my backyard oasis, weather dependent.
For private sessions contact me via the form below, or at [email protected]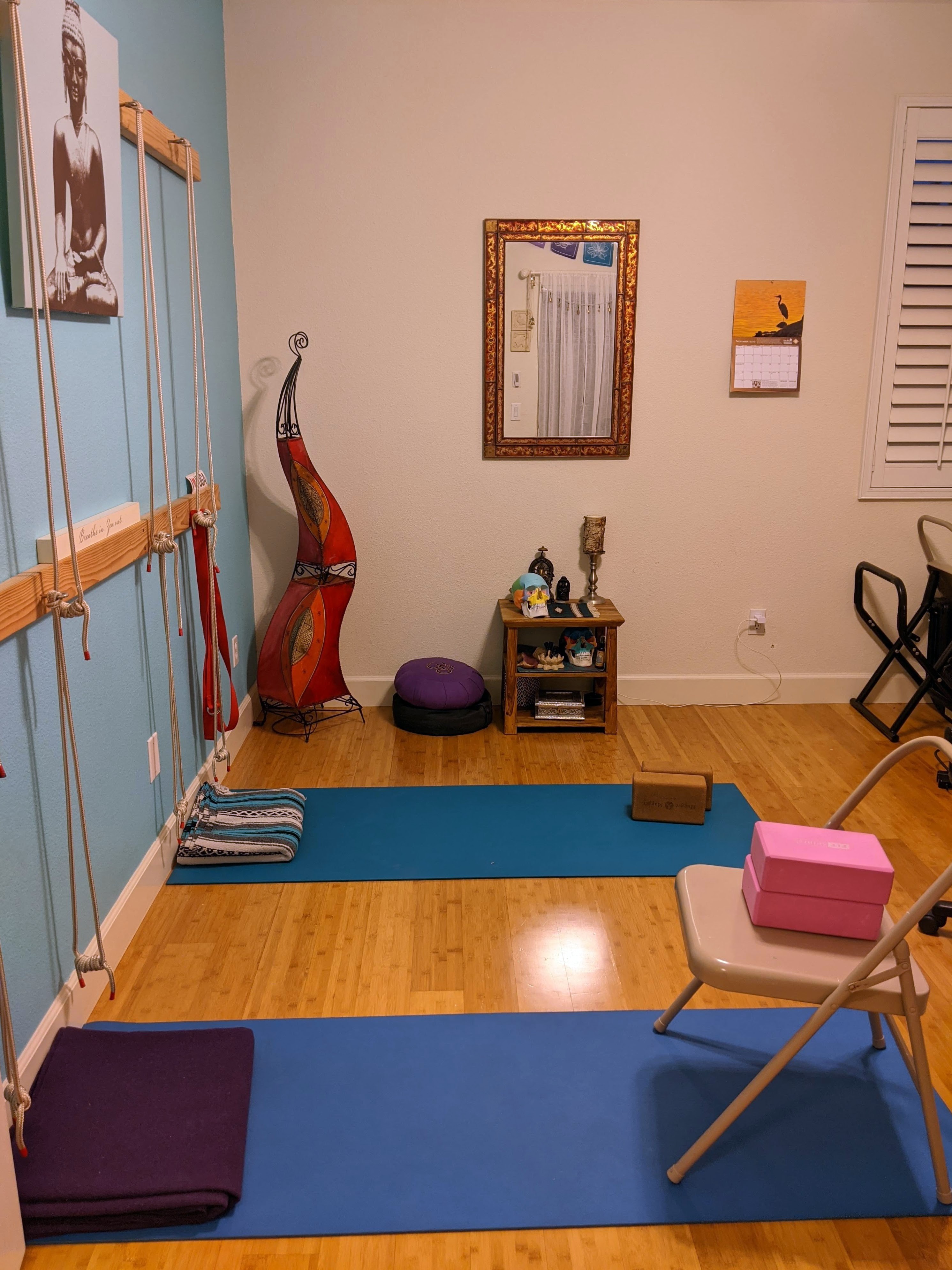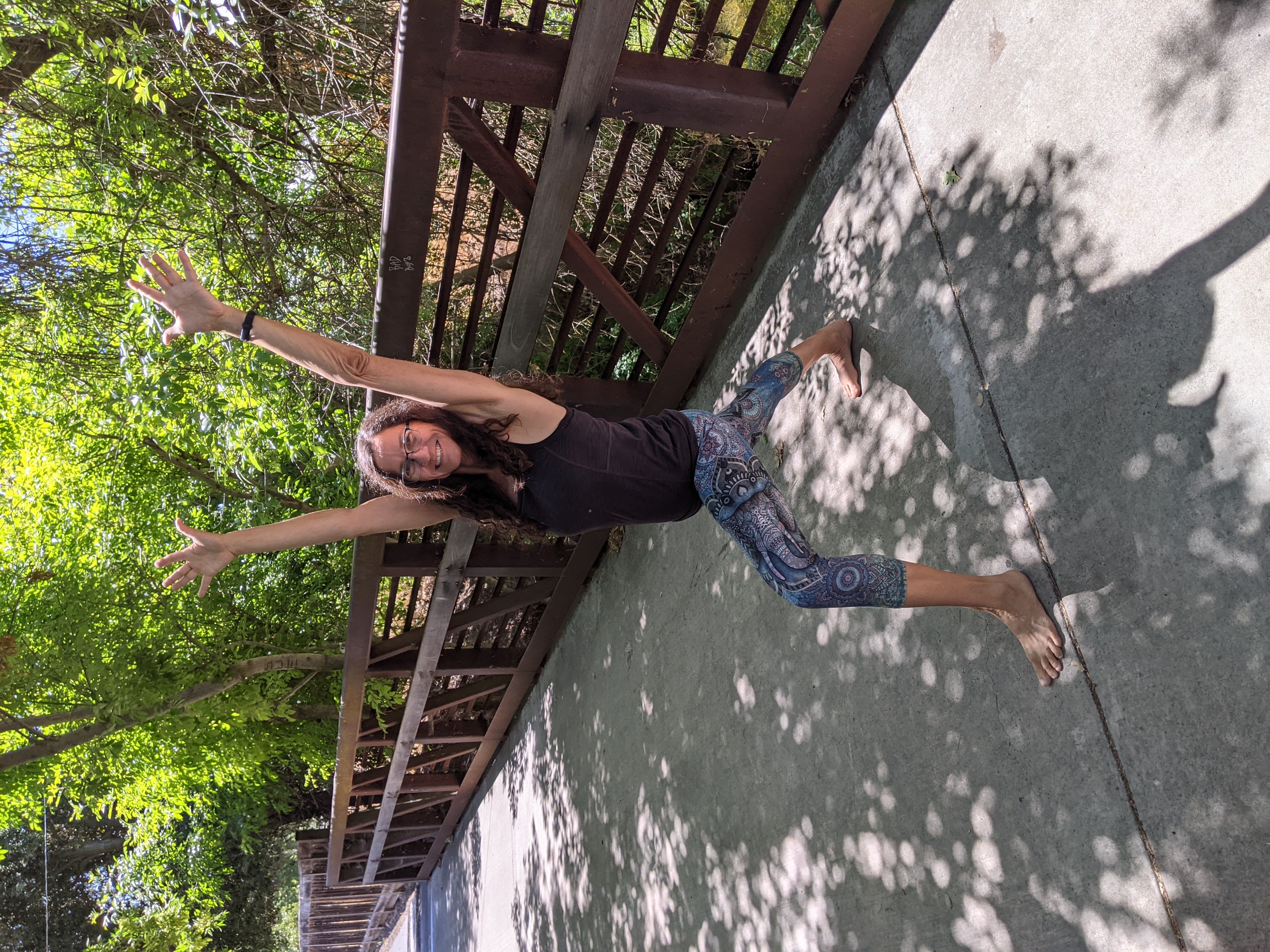 I began my yogic journey many years ago. As I was busy raising my family and working fulltime, I would sometimes drift away from the practice, but something always drew me back. (In hindsight I really could have used my yoga during those crazy times). I rediscovered yoga about 25 years ago and completed my first teacher training in 2010. Since that time I have taken over 750 hours of yoga teacher training and taught over 2,500 hours of classes. I am a Yoga Alliance ERYT-500 (Experienced Registered Yoga Teacher).
My teaching philosophy is simple. I focus on breathing, alignment, flexibility, strength, balance and mindfulness. Above all I want my students to succeed in whatever their goals are and to have fun!
I fell in love with Craniosacral treatments during my first session 5 years ago. Since that time I have completed almost 300 hours of training, including Upledger Institute's Craniosacral Therapy 1 and 2. Learn more about craniosacral work here.
Check us out on YouTube Delta Lotus Yoga Wellness
What My Students and Clients are Saying
"Excellent visualization and modification skills to assist any stage of physical ability. I have made amazing progress in her class."
Penny ~ Brentwood, CA

"She is fabulous. Cares about her students and connecting with them."
Sharon ~ Brentwood

"I met Debbie in 2013 when she started teaching Yoga at the Brentwood Senior Center. Debbie's classes have given me an entirely new perspective of what a Yoga class can be. All of her classes focus on posture, breathing, balance, and strengthening both the body and mind. Regardless of your physical condition you will always feel welcomed and she will do everything she can to ensure you have a positive experience.
Before Covid 19 I was very fortunate to have private and semi- private lessons with Debbie at her home studio. Private lessons are customized for you, a mixture of things you like to do, postures you'd like to improve, and postures you've always wanted to try. Debbie has an array of props to assist you: bolsters, blocks, straps, blankets, and my favorite, her rope wall. Private lessons or semi-private lessons with your best friend are both rejuvenating and enjoyable!!
Linda ~ Brentwood, CA

"Debbie does a great craniosacral session. Her touch is light and she has essential oils available. When I get up from the table all the soreness is gone from my body. I feel so relaxed afterwards. I love going to her once a month for this service."
Pat ~ Discovery Bay, CA


Contact Me
I'd love to hear from you!